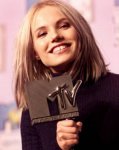 Lene Marlin Pedersen was born on 17th august 1980 in Tromsø, a city in the extreme north of Norway. Since she was a child she shown a big talent singing, so her parents thougth to give her a guitar at Christmas. Lene was 15 years old.

Lene starts playing songs written by other authors until she started write her own. She played them to her friends and to her big brother, making little concerts in her bedroom.
During summer '97, while she was on holiday, her friends called a journalist of NRK Troms, a local radio. Then, when Lene came back, they succeeded to convince her to go there.


The real turn arrived when a day, while Lene was caming back by bus, she met the same journalist of the radio, that asked her if he could bring what she recorded to the director of Virgin Norway...
So Lene recorded her first album, having a big success in all the world, and selling more than 1 milion of copies.

Lene had a big work to record her album, because she had to go up to studies in Oslo. To make this she had to make 1 hour by car and then 2 hours by plane. However this not compromised her studies, and she could finish them, winning also an award (Karolineprisen) annually given to studens that can both reach great result at school and have an important extra-scolastic activity.
Lene said her biggest emotion was when she listened for the first time her single Unforgivable Sinner to the radio. During first 3 days since it was released, were sold 50.000 copies only in Norway!

Lene's character is reserved, and this new situation gives her some discomfort. She would avoid attention that papers and fans reserved to her. Sometimes Lene is asking how she can sing in front of public.
Now Lene lives in Oslo, but she would stay with her family and her friends.
During these almost 2 years Lene has received a lot of awards, like Spellemannsprisen and in '99 an MTV Music Award as "best nordic act".


Best wishes Lene!!